HARVEST FESTIVAL
We had a joyful service for our Harvest Festival, with a wonderfully decorated church. Thank you to those who spent time and effort in making God's house look so welcoming (including our harvest wheatsheaf). Thank you also to those who have given so generously to our local foodbanks and Community Cupboards, which will be much appreciated.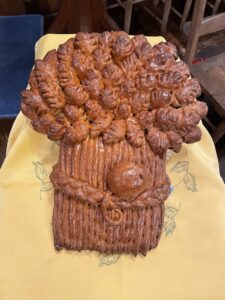 ALTERNATIVE GAMES
New Galloway's annual Alternative Games, held on the first Sunday in August, was once again a popular event. Luckily the weather was good and the park was packed with visitors. The St Margaret's Guild ran a tombola with all proceeds going to the Castle Douglas Hospital League of Friends – with donations the sum raised was just over £200.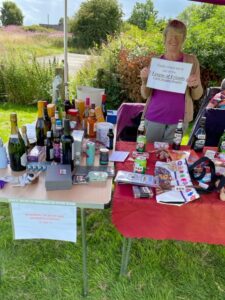 PLANT & BAKE SALE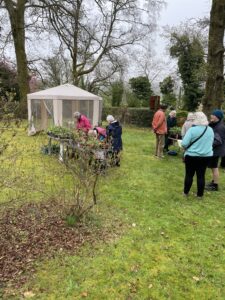 The St Margaret's annual Plant & Bake Sale took place on Saturday 29th April. A very busy morning with sales of many interesting plants, vegetable seedlings and annuals; two tables laden with delicious home-baking and many folk staying to enjoy a cup of tea or coffee and a cake. Bumper profits of £602 will go to Scotland's Charity Air Ambulance. SCAA responds, on average, to two time-critical emergency callouts every day and with no government funding, they rely on fundraising and donations to fuel their life-saving flights.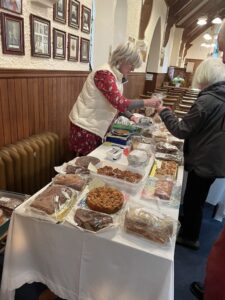 LENT LUNCHES
The St Margaret's Guild have once again had a very successful Lent Lunch season. Hosts have welcomed many friends from the Church of Scotland, as well as our own congregation, for soup and rolls, followed by cheese and biscuits, and coffee or tea. The lunches are an enjoyable social occasion as well as raising funds for a variety of good causes. Over £850 was raised for JDRF (Junior Diabetes Research Foundation),  Scottish Autism and MOOL: Dumfries & Galloway Refugee Action.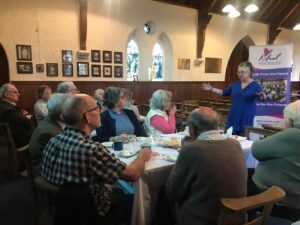 HELP FOR TRAUMATISED CHILDREN IN UKRAINE
St Margaret's Guild has now completed their project to help children in Ukraine suffering from trauma. Sufficient funds were raised to put together 50 Play Therapy kits which are now on their way to Ukraine. Sarah Watson, a trained and experienced Play Therapist, explains "each kit contains specific items with a therapeutic value, they're not just toys. They are packed in easily transportable bags with an explanation in Ukrainian as to how to use the kits, and a card with a signed message letting them know that someone is thinking of them and holding them in mind". The Guild is most grateful to all who contributed to this most worthwhile project.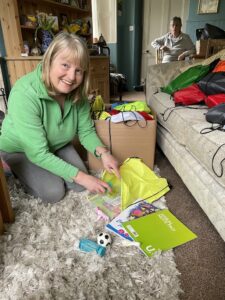 LICENSING SERVICE FOR REVD DAWN MATTHEW
A magnificent service was held on 18th February to License Revd Dawn Matthew as our new Priest-in-Charge. A large congregation included Bishop Kevin (who presided) and 12 robed clergy. The service included the presentation of symbols of ministry to Dawn by members of the congregation. Afterwards the St Margaret's Guild hosted a superb tea party.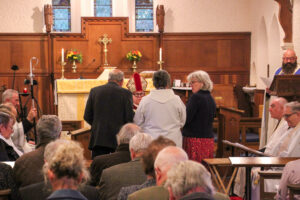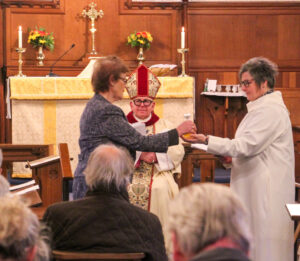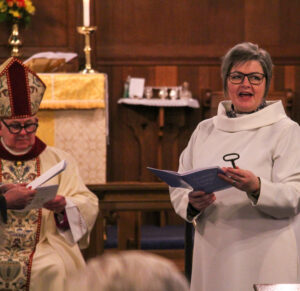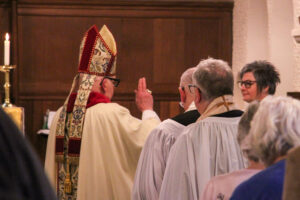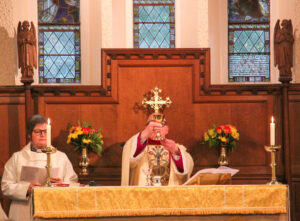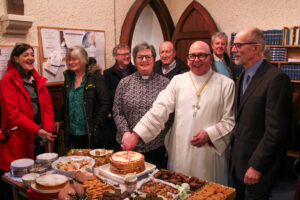 CHRISTMAS
Our Carol Service and Christmas Day Eucharist were well attended – the church was beautifully decorated and the congregational singing must have been heard throughout the village. Our thanks to Barry Gilbert for master-minding both services and to Hilary Craig for playing the organ. The congregation had voted to donate our Christmas collections to Médecins-sans-frontièrs, an international, independent, humanitarian organisation providing medical assistance to people affected by conflict, epidemics or disasters. We are delighted to report that £1175.20 was raised.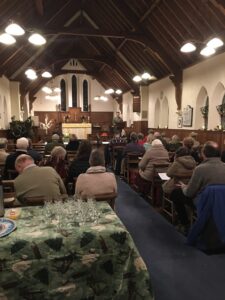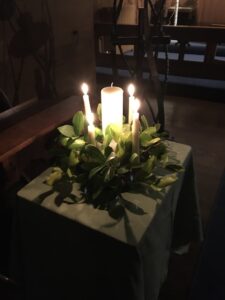 ADVENT
Our Advent themes hanging from the lychgate provided some reflective calm in the run-up to Christmas.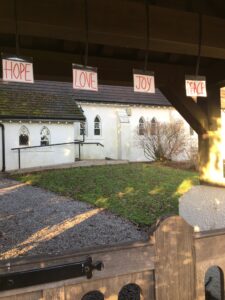 ALL SAINTS' CHALLOCH – 150th ANNIVERSARY
A wonderful service was held on the Feast of Christ the King to celebrate 150 years of the consecration of All Saints' Challoch. The service was led by Bishop Kevin, assisted by Stuart Bain, and the congregation was enlarged with friends from charges all across Galloway. Inspiring music including Handel, Telemann, Tallis, Purcell and Vaughan Williams, and supported by a choir and violinist, added to the joyous occasion. In his sermon, the Bishop reminded us that the Feast of Christ the King was inaugurated following the First World War to celebrate the hope of new life. And he sees new and exciting life now as Challoch and New Galloway prepare for their new priest, making God's love real and known in our communities. At the end of the service Bishop Kevin dedicated a newly made textile panel celebrating 150 years of All Saints' Challoch, and this was followed by an enjoyable lunch.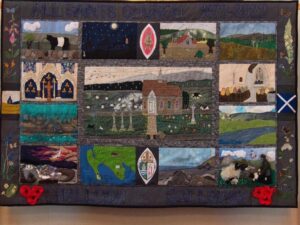 'SEA SUNDAY'
Revd Steven Ballard, Honorary Chaplain to the Mission to Seafarers in Dumfries and Galloway, took a special 'Sea Sunday' service for us on 6th November. It was very interesting to hear all about the work of Mission to Seafarers, a Christian welfare charity that operates all round the world. It is reliant on donations and we were happy to contribute to their funds. To find out more about the charity, please go to https://www.missiontoseafarers.org/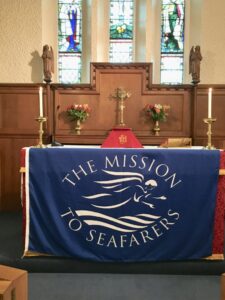 ALL SAINTS' DAY
We celebrated All Saints' Day at our Eucharist on Sunday 30th October. A thought-provoking sermon and the congregation in full voice made for a wonderful celebration and this was followed by 'fizzing' fellowship and canapés, courtesy of the St Margaret's Guild.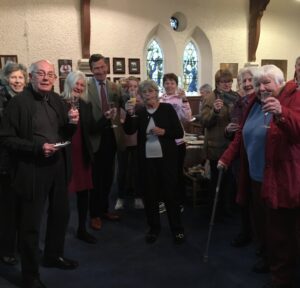 HARVEST THANKSGIVING
Our Harvest Thanksgiving Service took place on Sunday 2nd October. The St Margaret's Guild had decorated the church beautifully with flowers, fruit and vegetables from their own gardens. This was followed by a most enjoyable Harvest Lunch for the congregation, kindly hosted by Derick and Venetia Forbes with help from St Margaret's Guild.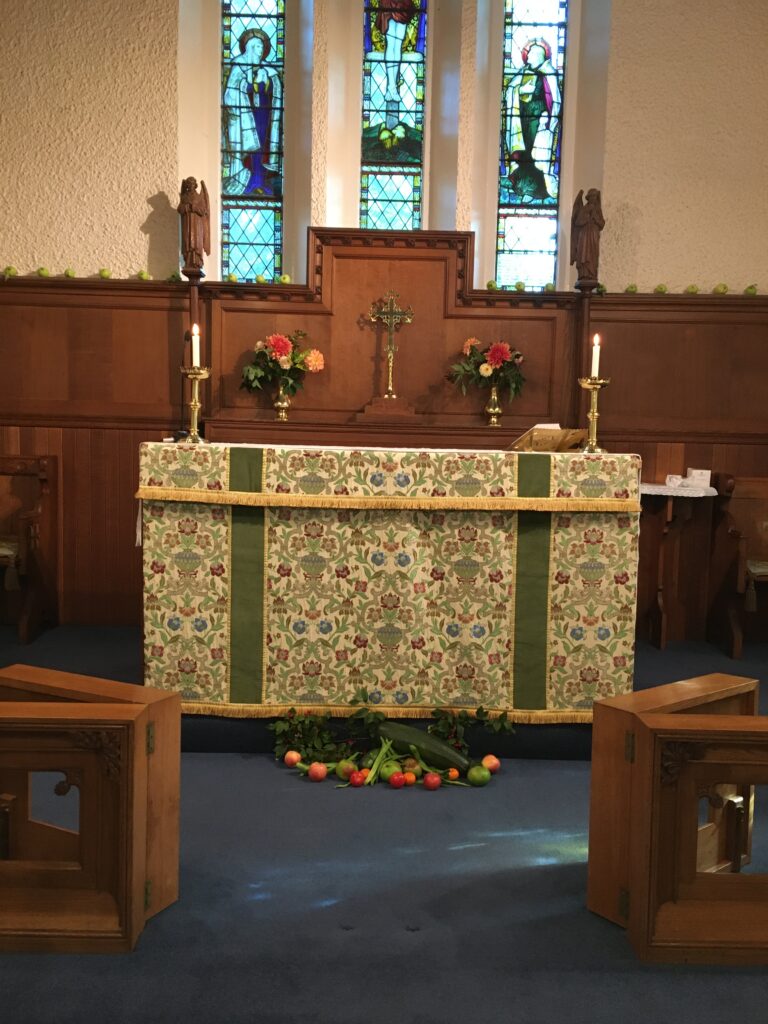 HER MAJESTY QUEEN ELIZABETH II
Following the sad news of the death of Her Majesty the Queen, the St Margaret's church bell was rung on 9th September from noon and the church was open for prayer and reflection. On Sunday 11th September, our service started with a minute's silence. Prayers recommended by the Scottish Episcopal Church were used and the sermon was replaced by a reflection on the Queen's life and service. We closed with prayers for the King and the National Anthem.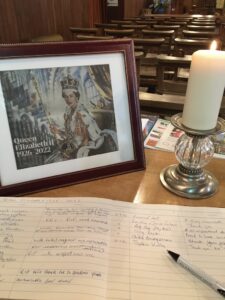 THE ALTERNATIVE GAMES, NEW GALLOWAY
Sunday 7th August. After a two year hiatus due to Covid, the Scottish Alternative Games returned to the Park in New Galloway this year. Described as the Lowland alternative to the better known Highland Games, it was a great day out with lots to see and do for all ages.  Visitors and locals took part in many events including Gird 'n Cleek, tractor pulling and snail racing! The St Margaret's Guild once again ran a Tombola stall at the Games with all profits going to our local Food Train (approximately £200).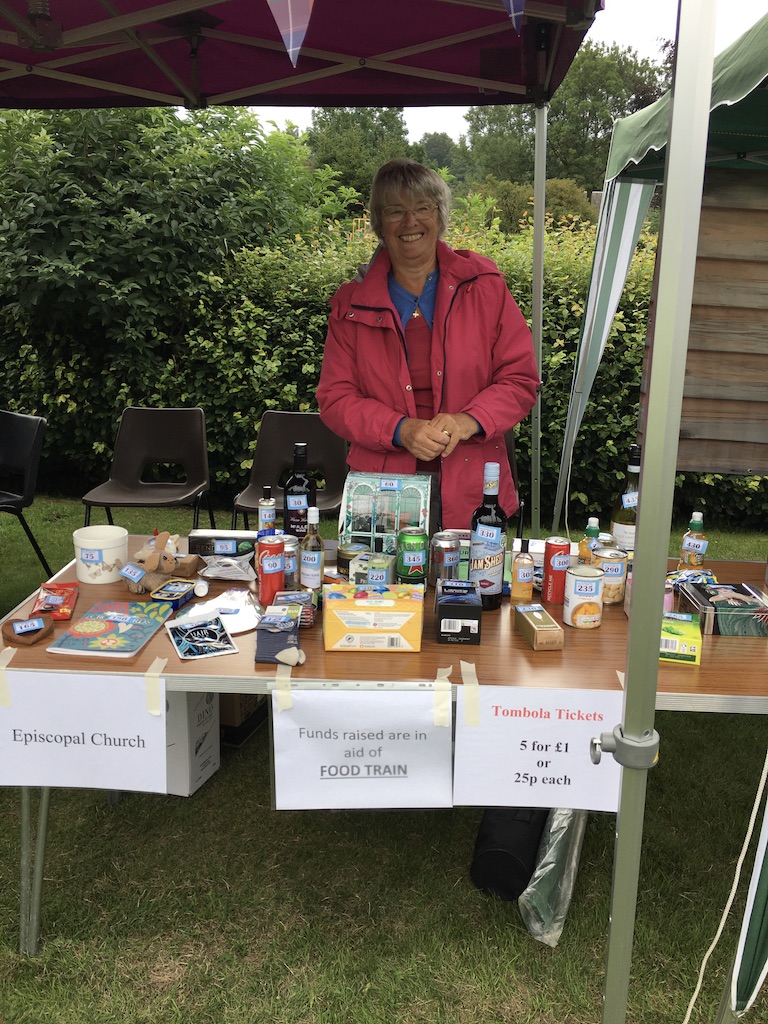 GALLOWAY REGIONAL ASCENSION DAY SERVICE
Thursday 26th May. We were delighted to host the Galloway Regional Council's Ascension Day service this year. This was a  most joyful service at which Canon Barry Gilbert presided and Revd John McHale preached and it was good to welcome so many of our fellow Scottish Episcopal Church members from across the region, many of whom had not visited St Margaret's before. We are grateful to the St Margaret's Guild for providing refreshments beforehand.
BALLIOL SINGERS CONCERT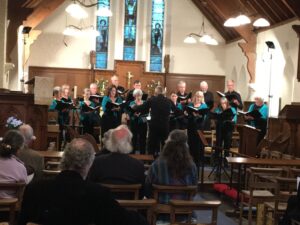 Postponed from April 2020 due to the pandemic, we were delighted to welcome the Balliol Singers back to St Margaret's on Tuesday 3rd May. We were entertained to a terrific evening of music and readings, from the Renaissance to today, called Paella and Pasta: musical nourishment from Spain and Italy. It was wonderful to hear live music again!
PLANT AND BAKE SALE
After a three year Covid-hiatus, the annual St Margaret's Guild Plant and Cake sale took place on Saturday 7th May. A most successful morning with £620 raised for Dumfries & Galloway Blood Bikes, and a further £150 raised to go to the Ukrainian Appeal (via UNHCR). Many thanks to the St Margaret's Guild for organising the event and to all those who contributed and supported.