Now that the Scottish Government has relaxed the Covid rules, we are offering Communion in both kinds at the altar rail, standing or kneeling. Individuals can choose whether to receive in one kind, or both kinds.  If anyone requires Communion to be brought to them in their seat, please tell the Welcomer when you arrive for the Service.
We are delighted to offer coffee or tea after our Sunday services. If you would like to join us, please make your way to the back of the church.  Anyone preferring to remain seated can have refreshments brought to them.
Sung Eucharist on Sunday mornings starts at 10.30am using the 1982 Scottish Liturgy with the recommended Seasonal Eucharistic prayers.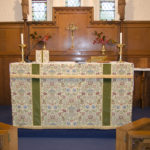 We have an enthusiastic and committed organist and recordings are played on the Wyvern Sonata electronic organ should she be absent. Members of the congregation help with bell ringing, welcoming people and reading during services.
If you know of anyone who is housebound and would like Communion brought to them at home, please let us know (see Contacts).
St Mary's Cathedral in Glasgow offers online services; please go to www.thecathedral.org.uk/worship
David Bartholomew also presents weekly worship from the Glenkens via youtube. Please contact him at DBartholomew@churchofscotland.org.uk if you would like to be added to the list for weekly resources.